Secure Convenient Payment Options


Payment Benefits:
- Pay over time
- Zero interest
- Pay with Visa, Mastercard, Discover, American Express, ACH
What is Sezzle?
Sezzle is a smarter way to pay. Pay over time. No interest. Ever.
Does Sezzle impact your credit score?
No.  Sezzle is not a financial loan that would require checking your credit score. Sezzle will not impact your credit score in a positive or negative way.
How to checkout with Sezzle
Shop like normal. Browse products. Add to cart. Then go to checkout. Fill out your contact and shipping information. On the Payment screen Sezzle will be the default option. Enter your Billing address and click Complete order. You will then be redirected to Sezzle.com. From here you can select Sign up or Log in (if you already have an account). Complete the few steps and you will be approved and sent back to CBD-FIT.com to receive your confirmation number of your order.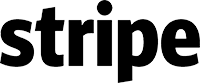 Payment Benefits:
- Pay securely your debit cart, credit card or bank account
What is Stripe?
Stripe is a leading online payment processor for internet businesses.
How to checkout with Stripe
If you would like to process your order with Stripe please email cs@cbd-fit.com.  Our customer service team will send over a one time credit card authorization form to process your order.